Last week, one half of comedy duo the Chuckle Brothers, Barry Chuckle passed away. 
The comedian and entertainer died last week at the age of 73. He died peacefully at home with his wife and family.
"It is with great sadness that the family announce that Barry passed away peacefully at his home surrounded by his wife Ann and all his family," said Phil Dale.
Barry was part of the duo with his younger brother Paul for more than 50 years.
Before he died he was working on Chuckle Time with the Chuckle Brothers for Channel 5. Before Channel 5 aired they programme they released a statement saying:
"Chuckle Time and a tribute to Barry Chuckle, who sadly passed away today. Thank you for all the smiles, our thoughts are with his family and friends."
Following his death, Paul said: "I've not just lost my brother, I've lost my theatrical partner of many, many years and my very best friend."
Dale said: "The family would like to express their thanks to the many people who have been fans of the Chuckle Brothers and they know that they will share in part the great, great loss they feel."
A family statement said: "There will be no further comment at the moment and it would be much appreciated if the privacy of Barry's family is respected at this most difficult time." It said he had left "50 years of laughter as his legacy, which is something very special".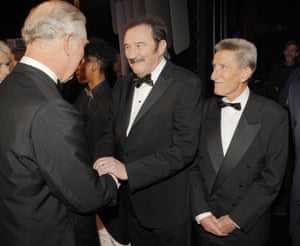 The Labour MP Angela Rayner said: "So sorry to hear of the death of Barry Chuckle aged 73 this morning. "A great entertainer who has been making people laugh for so long. Our family loved his act with his brother, RIP Barry."
The former England rugby union international Brian Moore wrote: "'To me; to me.' Doesn't really work does it. RIP Barry Chuckle."
The comedian Jack Whitehall tweeted:
Really sad about the passing of Barry Chuckle, as you may know i was obsessed with the Chuckle Brothers as a kid. Legends. Rest in peace.

— Jack Whitehall (@jackwhitehall) August 5, 2018
To me. To you. So sad to hear about the passing of Barry Chuckle. Thank you for being a part of my childhood and for the hours spent in laughter. #Chucklevision

— DUA LIPA (@DUALIPA) August 5, 2018
One of my favourites from childhood years, teenage years and as an adult! Gutted. Barry Chuckle RIP sir. pic.twitter.com/NjZ6J8krbq

— Paddy McGuinness (@PaddyMcGuinness) August 5, 2018
Comments
comments