He's known as Rubberface, and if you've ever seen any of his films you know exactly why.
Jim Carrey is known for his physical comedy skills, whether he's playing a man who has to tell the truth, a comic book villain, a pet detective or a nobody who finds a magic mask. Watching him's exhausting, but we love every minute.
#10 – Riddle Us This, Jim (1995)
"Batman Forever"'s casting director had it pretty easy when it came to this flick: Jim Carrey was the only man to play Edward E. Nigma, better known as The Riddler. The role requires an actor to be energetic, over-the-top and all over the place, and Carrey was more than happy to oblige. When he meets up with his new ally Two-Face, that's when the games truly begin.
#9 – Jim's Side-Split Personality (2000)
Carrey assumes a two-faced role himself in "Me, Myself & Irene." Charlie Baileygates is a doormat who's abused by everyone who crosses his path. That causes him to go nut-burgers and develop split personalities, one of whom is a total psycho-badass. The on-a-dime transformation between his two selves is something to behold, but when Carrey comes to blows with himself, that's when the real magic happens.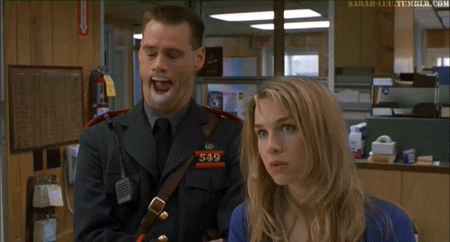 #8 – Here Jim Comes to Save the Day (1999)
Playing him with humanity, humor and a knowing smile, Carrey completely vanishes into the role of eccentric and misunderstood comic genius Andy Kaufman. To play Kaufman doesn't require only an impersonation of him: Carrey also masters his alter-egos, and stable of impressions – including his famed Elvis. After watching "Man on the Moon," you may not understand Kaufman any better, but you do know more about Jim Carrey's incredible range.
#7 – Jim Has a Titanic-Sized Freak-out (2003)
In "Bruce Almighty," Carrey plays Bruce Nolan, one of those reporters that always gets the puff pieces – or puff pastry pieces. Like Carrey himself, Bruce struggles to be taken seriously, so when he's passed over for the anchor job in favor of his rival, well, he doesn't take it so well. Unfortunately, he's on live TV at the time. That poor old lady doesn't know what hit her.
#6 – Jim's So Sketchy (1990-96)
Before prospering on the big screen, Carrey was the token white guy on the Wayans family sketch series "In Living Color." True to form, he stole the show with his physical comedy, rubberized facial expressions and valuable life lessons. Once he'd become a huge movie star, Carrey returned to his sketch comedy roots with a memorable "Saturday Night Live" hosting gig that gave birth to one head-bobbingly unforgettable sketch.
#5 – Jim's Death Mask (1994)
He sings, he dances, he makes excellent balloon animals – he's "The Mask." If you're a Jim Carrey fan, this movie is right up your alley because it's everything you love about him, kicked up about a thousand notches. He bounces from suicidal to sing-songy in a matter of minutes, and while his dance number with Cameron Diaz is smokin', it's his faux-death scene that's really ready for the Academy.
#4 – The Truth Will Set Jim Free (1997)
Coming at a time when Carrey was honing his frenzied comic energy "Liar Liar," gives us the best of both Carrey worlds: manic and restrained. After his son wastes his birthday wish requesting his father be barred from fibbing, Carrey is stuck in truth-telling mode – which, as a lawyer, isn't great. So, he tries to weasel out of it, mind-over-matter style. It don't work.
#3 – Jim Goes Medieval On His Ass (1996)
Here's how you do a dark, psychological thriller, the Jim Carrey-circa-mid-'90s' way. The eponymous Cable Guy is lonely and well-meaning, but a little unhinged – just unhinged enough to require the comic stylings of a guy like Carrey. When he's not trying to make friends, singing karaoke or flashing prisoners, the Cable Guy is letting off steam the only other way he knows how: by sword fighting.
#2 – Jim Plays Dumb (1994)
It takes a genius to play an idiot. With his bowl-cut, chipped tooth and buddy at his side, Lloyd Christmas sets off to follow his dream woman cross-country. Sandwiched between the hot-tub parties, motorcycle rides and getting-ready-montages is one killer road trip – and by "killer," we mean they pick up a hitchhiker who's trying to murder them. But they'll be fine: they can always annoy him to death.
#1 – Play It Again, Jim (1994)
If you thought Jim Carrey was everywhere in the mid-'90s, you're right: he had no less than three huge movies out in 1994 alone. But only one is a decisive touchdown: "Ace Ventura: Pet Detective" introduced Carrey's hyperactivity and elastic face to a wider movie audience, and gave us all the Jim Carrey-isms we know and love. It also proved that Rubberface knows comedy both frontwards and backwards.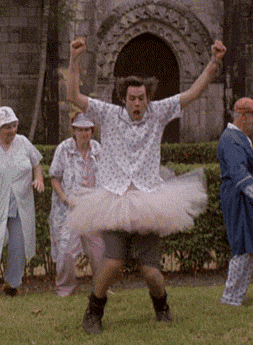 Comments
comments