UFC Featherweight Champion Conor McGregor is never out of trouble and never short for words.
Over a live phone link from his native Dublin he was charged yesterday (Oct 11th) for throwing a water bottle during  a UFC 202 Press Conference in Nevada that hit a security officer and he has now forfeited 5% ($150k) of his next purse and has to do 50 hours of community service. Maybe he should perform his service as a kids entertainer? He's a bit of craic at least.
Dominating the UFC octagon isn't enough for Conor – he just can't help but dominate press conferences too using his quick Irish wit to mentally dismantle his opponents pre Fight Night! Pity he coudn't keep the sting in his tongue. $150k would pay for a lot of gym gear back home.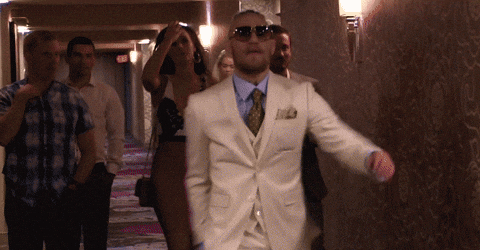 At UFC 205 on Nov 12, McGregor has a chance to become the first ever simultaneous two-division champion in the history of the promotion when he meets Eddie Alvarez in New York but UFC president Dana White has promised that holding championships in two weight classes would be short lived for the Irishman.
White has said that if McGregor wins at UFC 205, he will then have to decide whether he keeps the lightweight title or the featherweight title but he's not keeping both.
McGregor vehemently disagrees!
Credit – UFC ll Alexlinkp ll
Comments
comments