New Irish feel good comedy 'Halal Daddy' will hit Irish cinemas on June 30th.
"Do you think I should learn Arabic? I already bought the tapes and everything!"
Sligo native Conor McDermottroe has written this highly anticipated movie with Viva screenwriter Mark O'Halloran. It uis also shot in Sligo and has a brilliant cast which includes Nikesh Patel, Colm Meaney, Art Malik, Deidre O'Kane and Sarah Bolger.
Half way through filming with our loving and talented director Conor McDermottroe. #HalalDaddy @iNikeshPatel Xx pic.twitter.com/HI5j1a6PZJ

— Sarah Bolger (@SarahBolger) June 24, 2016
Raghdan Aziz, a young man of British-Indian Muslim heritage, is happy in his new home on the west coast of Ireland. This beach-fronted retreat is the perfect getaway from his controlling father. He has escaped the burden of his legacy and discovered a new sense of community. Living with his adoring aunt and uncle, Raghdan hangs out with his surf buddies Derek and Neville and has mapped out a future with girlfriend, Maeve Logan.
On Raghdan's 21st birthday, his father Amir arrives from England with the gift of a run-down meat factory. How will Raghdan cope with this poisoned chalice of a present – a career opportunity that he never wanted?
HALAL DADDY is a fish out of water story about a loveable outsider, who must decide to embrace or defy his culture in the name of fitting in.
McDermottroe was also surrounded by a stellar production crew whilst filming Halal Daddy, including Director of Photography Mel Griffith (Ricky: Three's A Crowd), Production Designer Conor Dennison (A Dark Song) and Costume Designer Kerry Gooding (Game of Thrones).
Produced by Ailish McElmeel for Deadpan Pictures (Can't Cope, Won't Cope, Burning Wishes, Wide Open Spaces) in Ireland and Hermann Florin for Benrae Florin Film (Hanni & Nanni, I'm off Then, Swansong: The Story of Occi Byrne, Outriders) in Germany.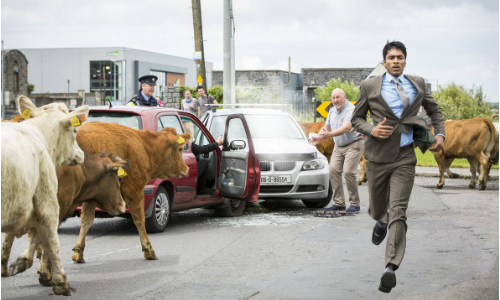 Halal Daddy
will be in cinemas nationwide June 30th.
Comments
comments