BBC1's Mrs Brown's Boys has been voted the best sitcom of the 21st century so far in an online poll of 14,000 readers of the Radio Times beating The Office & The IT Crowd. See full list below
For those not familiar with the show, Mrs. Brown's Boys is a sitcom filmed in front of a live audience that focuses on the friends and family of Agnes Brown, the Irish matriarch played by comedian Brendan O'Carroll. It has a broad (somewhat 'old-school') sense of comedy, mixing pratfalls with traditional jokes as well as incorporating actual bloopers and corpsing (when an actor laughs) into the televised broadcast.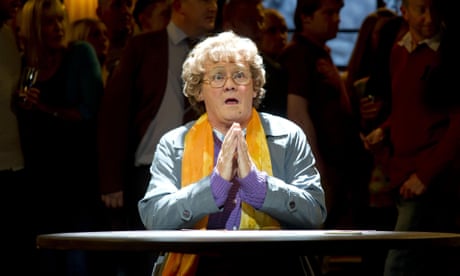 He said: "It vindicates the fans' belief in the show. They have kept us on the air – it certainly wasn't the reviewers"
In third place was Peter Kay's Car Share. 
The top 20 list was compiled from a shortlist of 40 chosen by Radio Times critics and experts from the British Film Institute. Perhaps the most critically acclaimed sitcom of the bunch, The Thick of It, came in at number six, and Caitlin Moran's Raised by Wolves, recently axed by the Channel 4 was voted the ninth best of the 21st century.
Mrs Brown's Boys stars O'Carroll as the titular Mrs Brown, with some of the show's characters played by O'Carroll's family members. Last Christmas it was only beaten into second place in by the final ever episode of ITV's Downton Abbey, but still drew 9.5 million viewers. A live special in July, used to kickstart the BBC's landmark comedy series of revivals of old sitcoms, attracted 4.5 million viewers. It has also spawned a spin-off movie – 2014's Mrs Brown's Boys D'Movie, which topped the UK and Ireland box office for two weeks following its release.
The Top 20 are –
Mrs Brown's Boys
The Office
Peter Kay's Car Share
Count Arthur Strong
The IT Crowd
The Thick of It
Gavin & Stacey
Miranda
Raised by Wolves
Outnumbered
Peep Show
Black Books
Green Wing
The Inbetweeners
Bad Education
Peter Kay's Phoenix Nights
Yonderland
Twenty Twelve/W1A
Benidorm
Detectorists
So why has MBB been so popular? Last December the same team sold out six nights of shows in the 3Arena in Dublin. That's 60,000 seats. You can't argue with the punters! Critics wise the TV show has won countless awards, is broadcast everywhere and is known by everyone in Ireland. But you either love it or you hate it.
Reaction though has been mixed. It's one of the most popular shows to have been shown in Ireland or the UK, in fact last year's Christmas Special was the most watched programme over the holiday period. However, the show has received numerous negative reviews, for example the Irish Independent says that the show "makes you vaguely embarrassed to be Irish". Allegedly BBC Scotland were very keen that RTE came on board as minority co-producers so the Irish in the UK wouldn't be as 'offended'.
So, why the huge disconnect between popular opinion and critical appraisal? Partly it has to do with the style of comedy, which The Metro described as "jaw-droppingly past its sell-by date" as it harks back to the music hall style. O'Carroll performs as a retired street fruit seller Mrs. Brown with a wink and a knowing nod, often dropping character to comment on the performance that is happening. Critics tend to not enjoy these things, despite how much an audience may enjoy seeing performers having fun with what they're doing.
However it is undeniable that the show is immensely popular, selling out a shows in theatres as far away as Canada, USA and Australia. Why argue with such a success and there is real warmth to the storylines and the family itself. Perhaps it's because the show is cast with Brendan O'Carroll's actual family that makes the difference. Their chemistry is real, they all clearly like spending time (and laughing!) together. It's also a specifically Irish show and it's well known how many people of Irish descent are out there. Why can't we all out there just accept the fact that 'people' (and millions of them) love the show and vote with their remote controls. That's what makes it popular.
Ironically the sitcom was pitched to RTE with Brendan's support in 2001 but the channel rejected the idea. It had originally started as a sketch on RTE's pop radio station 2FM years before that.
Whether you're a critic or a viewer at home, what is undeniable is that it's a rating juggernaut and nobody in grintage begrudges their fantastic success. Born into a Labour leaning family the man himself has proven himself again and again off screen a 'decent skin'. Brendan even turned down a lucrative re-make offer in America as the US broadcaster wanted to take out the rawness of the Dublin language and censor the scripts.  For Irish comedy writers, stand ups and producers the massive UK success of an Irish sitcom also opens doors for the next wave of Irish comedy writers and also offers co-producers RTE an opportunity to develop and invest in original sitcom scripts for the global market. In the meantime it looks like we'll continue to have live shows, Xmas specials, movies and more detailing Agnes Brown and her clan for a long while yet.
In the meantime, just enjoy the studio laughs, the silliness and the slapstick of Mrs Brown Boys …
Comments
comments