Larry David is one of most infuential and powerful people in the world of TV comedy. He could be the most successful American comedian, writer, actor, and television producer ever and we comedy fans in Ireland have flocked to his TV shows! But who is he? 
Below a rare TV interview but first the set up biog …
Lawrence Gene "Larry" David was born on July 2, 1947  and is behind the most revered 'fictional' character in TV comedy. He and Jerry Seinfeld created the television series Seinfeld. To top being central to one of the iconic and successful sitcoms in US TV history he also created and starred as himself in the hit HBO series Curb Your Enthusiasm.
David's career is a lesson for all aspiring comedy writing and performing folk. He got there by hard graft. It is also a hint for Irish broadcasters that if they are seriously 'investing in comedy' they should target potential commissioners, execs, script editors and even producers who have a background in performing or writing comedy. Question? Is there one professional TV script editor with a professional comedy background hired by an Irish broadcaster at present? If there is let's know? In the UK and the US you can see how a talent and a comedy brain like Larry David is offered the opportunity to thrive when like minded professionals who know the comedy business and can spot & develop a good idea are leading the way.
During his early career while a stand-up comedian, David also worked as a store clerk, limousine driver, and historian. He lived in Manhattan Plaza, a federally subsidized housing complex in the Hell's Kitchen neighborhood of Manhattan, across the hall from Kenny Kramer, the inspiration for the Cosmo Kramer character in Seinfeld. David then became a writer for and cast member of ABC's Fridays from 1980 to 1982, and later a writer for the much lauded NBC's Saturday Night Live (SNL) but only for one season – 1984/85. During his time at SNL, he was able to get only one sketch on the show, which aired at 12:50 AM, the last time slot on the show.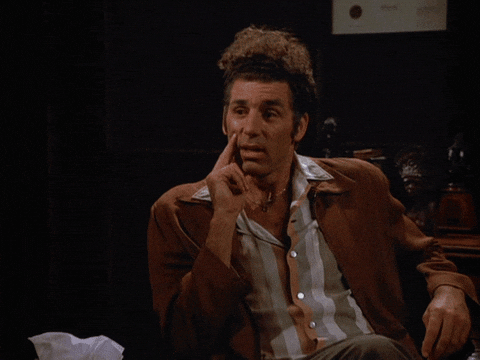 David quit his writing job at SNL in the first season, only to show up to work a few days later acting as though nothing had happened. That event inspired a second-season episode of Seinfeld entitled "The Revenge". David met his future Seinfeld stars during that early stage of his career: he worked with Michael Richards (Kramer) on Fridays and with Julia Louis-Dreyfus (Elaine) on SNL. He can be heard heckling Michael McKean when McKean hosted SNL in 1984, and he can be seen in the sketch "The Run, Throw, and Catch Like a Girl Olympics" when Howard Cosell hosted the season finale in 1985.
David's first MAJOR break through came when he and Jerry Seinfeld created the television series Seinfeld, and he served as its head writer and executive producer from 1989 to 1996. David has subsequently gained further recognition for the HBO series Curb Your Enthusiasm, which he also created, in which he stars as a semi-fictionalized version of himself. David's work won him a Primetime Emmy Award for Outstanding Comedy Series. He has won two more Primetime Emmy Awards as well as being voted by fellow comedians as number 23 of the greatest comedy stars ever in a British poll to select "The Comedian's Comedian".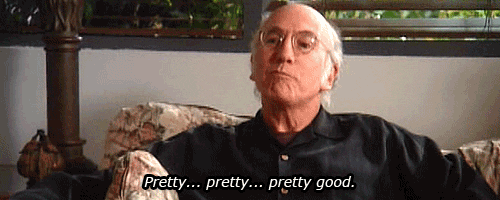 Curb Your Enthusiasm is a rather unique TV show were actors improvise their dialogue based on the story outline, direction, and their own creativity. David has said that his character in the show, a fictionalized version of himself, is what he would be like in real life if he lacked social awareness and sensitivity. The character's numerous and frequent social faux pas, misunderstandings, and ironic coincidences are the basis of much of the show's comedy and have led to the entry into the American pop culture lexicon of the expression "Larry David moment", meaning an inadvertently created socially awkward situation.
The basis of the show is the events in David's life following the fortune he earned from the Seinfeld series as David, now rich & semi-retired, strives to live a fulfilled life. Alongside David is his suffering wife Cheryl (played by Cheryl Hines), his manager and best friend Jeff (played by Jeff Garlin), and Jeff's wife Susie (played by Susie Essman). Celebrities, including comedians Bob Einstein, Wanda Sykes, and Richard Lewis, appear on the show regularly. Actors Ted Danson and Mary Steenburgen have had recurring roles as themselves.
Last year he created and starred in the Broadway theatre hit A Fish in the Dark. Watch below a US TV interview around that sell out stage show and most of all enjoy a rare insight into who exactly Larry David is …
Comments
comments