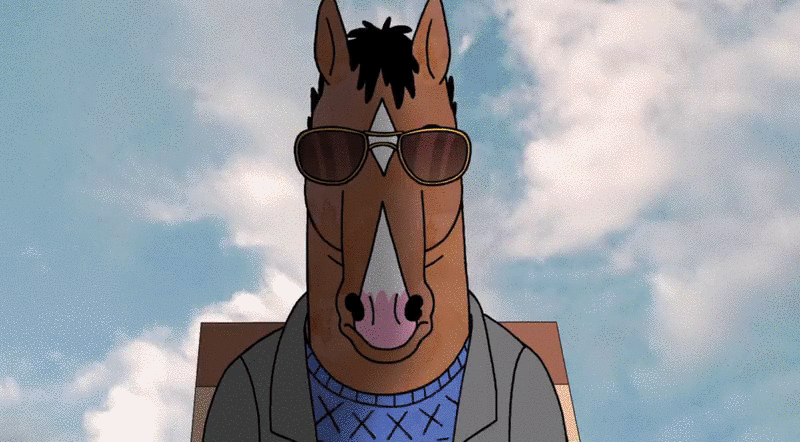 As you can see the animation is brilliant!BoJack Horseman is an American adult sitcom created by Raphael Bob Waksberg and stars Will Arnett as the title character, BoJack Horseman. It is a Netflix animated series available in Ireland and series 3 is up soon. 
The storyline and characters are catching on after 2 series on Netflix and we predict Year 3 will be the big break through. So what's it about? Best read with that movie trailer deep male voice …
In a world where humans and anthropomorphic animals live side by side, Bojack Horseman is a self-loathing 52-year-old alcoholic horse whose acting career peaked when he starred in a successful show called Horsin' Around, a parody of 90s family sitcoms. Though he began as a young bright-eyed actor, he has since grown bitter, deeply depressed, and jaded towards 'Hollywoo' and who he has become post-fame. Bojack's new insecurities, loneliness, and desperate need for approval often result in self-destructive actions that devastate those around him. After facing the people he hurt in his old life and coming to terms with his actions past and present, Bojack is slowly beginning to accept himself.
So the drama kicks on. BoJack plans his big return to celebrity relevance with a tell-all autobiography that he dictates to his ghostwriter Diane Nguyen. BoJack also has to contend with the demands of his agent and on-again-off-again girlfriend Princess Carolyn, the misguided antics of his freeloading roommate Todd Chavez, and his frenemy Mr. Peanut-butter, who is also Nguyen's boyfriend. It's mad and it's bad.
What we love about it and also the growing list of A List fans is that the series satirises Hollywood, celebrity culture, and the film industry.
The supporting cast includes Amy Sedaris, Alison Brie, Paul F. Tompkins, and Breaking Bad's Aaron Paul.
The latest Season 3 and every episode of Bojack Horseman is now available exclusively on Netflix.
Third Season Trailer Below:
and there is no Irish connection whatsover as far as we know except we love horses .. and its mad and bad ..
Comments
comments