It's Always Sunny in Philadelphia (AKA It's Always Sunny or simply Sunny) is an American television sitcom based in and around an Irish bar in Philly!
It premiered on FX on August 4, 2005 and moved to FXX from Season 9 and now all 10 seasons are available on Netflix.
'Sunny' – once called Seinfeld on Crack! – was created & developed by Rob McElhenney with Glenn Howerton. It is executive produced and primarily written by McElhenney, Howerton, and Charlie Day, all of whom star alongside Kaitlin Olson and Danny DeVito.
For those who are not familiar with one of our favorite ever shows the series follows "The Gang"– a group of five depraved underachievers namely Dennis Reynolds (Glenn Howerton) and his twin sister Deandra "Sweet Dee" Reynolds (Kaitlin Olson), plus their friends Charlie Kelly (Charlie Day) and Ronald "Mac" McDonald (Rob McElhenney). From season 2  Frank Reynolds (Danny DeVito), the man who raised Dennis and Dee, joined the cast.
The Gang run Paddy's Pub  – a dilapidated Irish bar – in South Philadelphia.
Each member of the gang shows varying degrees of dishonesty, egotism, selfishness, greed, pettiness, ignorance, laziness, and are often engaged in 'controversial activities'. They habitually inflict mental, emotional, and physical pain on each other and anyone who crosses their path. They also regularly use blackmail to manipulate one another and others outside of the group.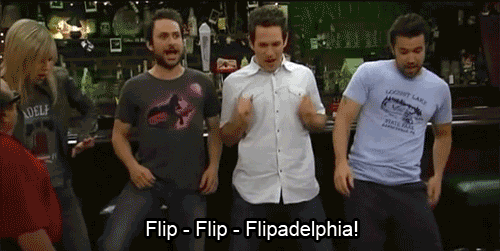 But the Gang's unity is never solid and much of the show's dialogue involves the characters arguing or yelling at one another. Despite their lack of success or achievements, they maintain high opinions of themselves and display an obsessive interest in their own reputations and public images.
The Gang has no sense of shame when attempting to get what they want and often engage in activities that others would find humiliating, disgusting or preposterous. These include smoking crack cocaine and pretending to be mentally challenged in order to qualify for welfare, attempted cannibalism, kidnapping, hiding naked inside a leather couch in order to eavesdrop on someone, coercing people into sleeping with them, forcing each other to eat inedible items, huffing paint, foraging in the sewers for valuables, sleeping with each other's romantic interests, seducing a priest, plugging their open wounds with trash and stalking their crushes.
Hey – its like the normal life of a grintager! For that the gang applaud you!
Do get your own gang around to savour the brilliance of Sunny – Season 1 to 10 is now available on Netflix to binge 
…. but for now enjoy the latest Sunny Blooper Reel:
Bonus Clip: Frank Reynolds (Danny DeVito) – Highlight moment from season 10
PS – Hopefully the totally OTT use of Gifs didn't spoil your enjoyment of the Sunny feature! Sure it's always Funny in Philly …
Comments
comments